Today's baseball and girls lacrosse scrimmages are postponed.

Huge Congratulations to Conner Heckman as he will wrestle in the PIAA Championship finals tomorrow at the Giant Center in Hershey. Parade of Champions will start at 1:45 pm. One more Conner, get the gold!

Due to the early dismissal today, all after school activities are cancelled.

PIAA State Wrestling Update: Sophomore Matthew Smith dropped two tough matches in the 127lb. bracket and is eliminated from the tournament. Congratulations on a great season as District and Regional Champion! We are proud of your success and the way you have represented MW! Senior Conner Heckman won his opening round match 1-0 to earn a spot in the quarterfinals this morning. He punched his ticket into the semi-finals with a 8-0 win. He will face a familiar District IV opponent in the semi-final match tonight at 7:30 pm. Conner will be the first 3-time PIAA State medal winner in MW history! Way to go Conner! Get the gold!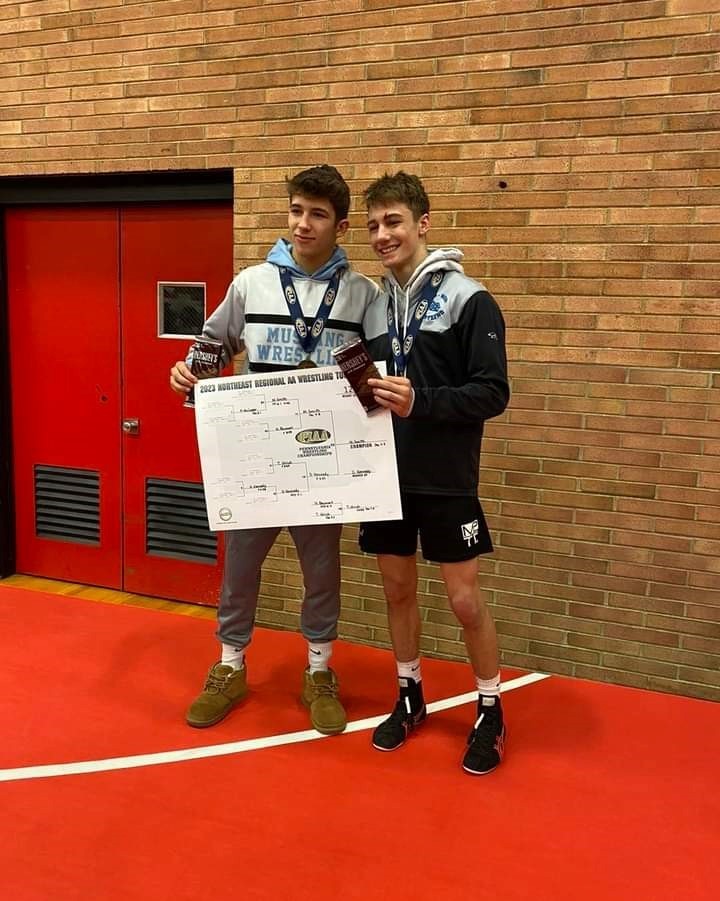 If you are planning on playing JH, JV, or Varsity football in the fall and you missed yesterday's parents' meeting, please complete the information below and email it to
adams.lance@mwsd.cc
Player Last Name Player First Name 2023-24 Grade Parents' Names Player Phone Household Phone Street Address City State Zip Player Email Parent Email

This past weekend was busy for the Mustangs. Our boys and girls bowling teams along with 3 individuals competed in the Regional tournament in Lancaster. Paige Aucker finished 19th out of 112 female bowlers and Ava Hoover finished in 78th place. Kyle Beward finished 93rd out of 144 competitors. The boys team finished 22nd overall and the girls team was 19th overall. Congratulations on a great season! The Mustang wrestlers traveled to Williamsport for the Regional tournament and a chance to place for a spot at Hershey this coming week. Charley Paige wrestled tough but missed qualifying by one match. Conner Heckman worked his way back through the consolation bracket to finish in 3rd place and earn another trip back to the PIAA State Championships. Sophomore Matthew Smith defended his #1 ranking and was a Regional Champion and will also head to Hershey for the championships this weekend. Congratulations to all of our winter athletes and Good Luck to Matthew and Conner!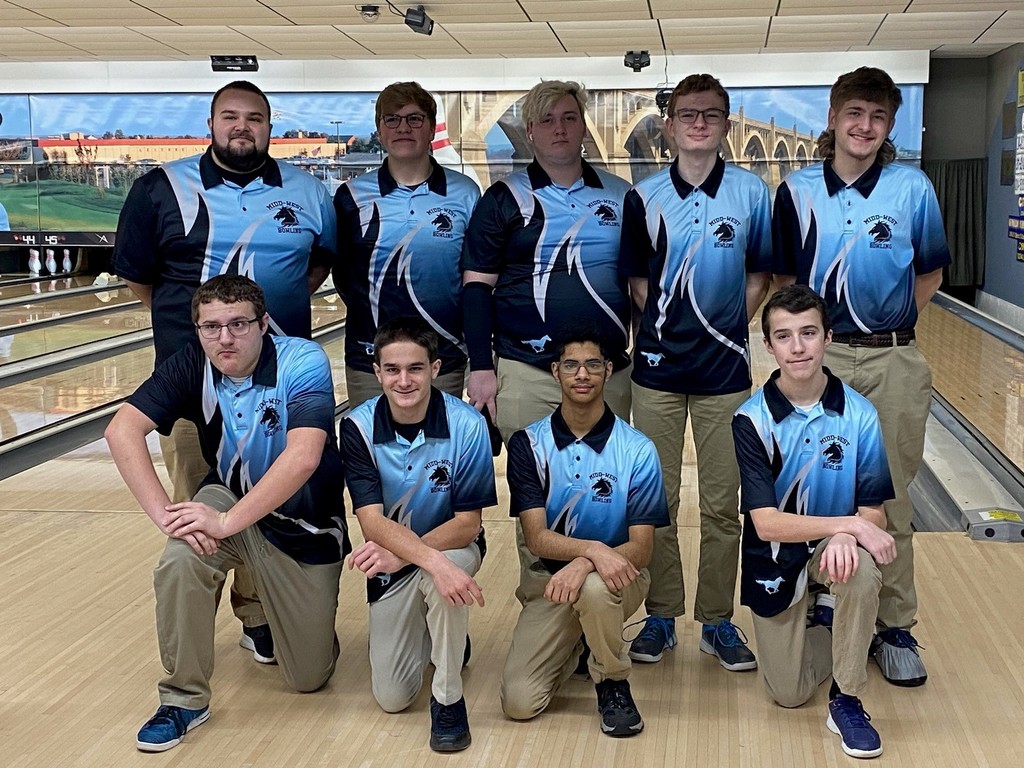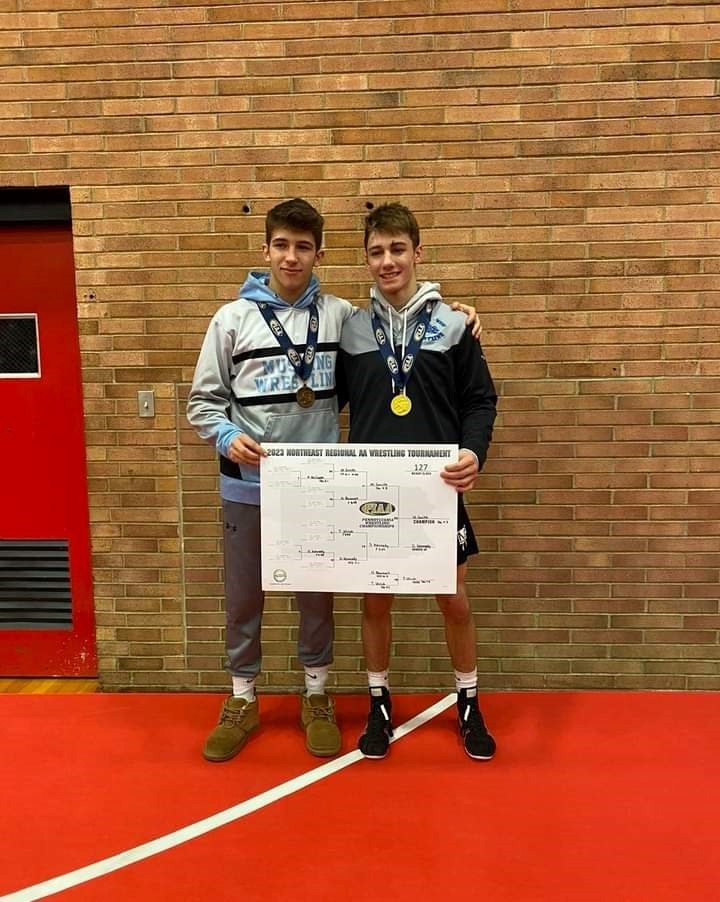 Good luck to our teams and individuals who will be representing Midd-West this weekend in Regional competition. Both bowling teams and three individuals (Paige Aucker, Ava Hoover and Kyle Beward) will compete in the Regional tournament in Lancaster. Wrestlers, Matthew Smith, Conner Heckman and Charley Paige will travel to Williamsport to earn a spot in the top 4 and punch their ticket to Hershey. Congratulations to all and Good Luck! Mustang Proud!!

Congratulations to Midd-West Head Wrestling Coach, Dale Franquet. Coach Franquet was inducted into the District IV Wrestling Hall of Fame this past weekend. Thanks Coach for your dedication to the sport and the Midd-West athletes. Mustang Proud!

The MW Quarterback Club will be hosting a Cornhole Tournament on March 4th. See attached flyer for more information.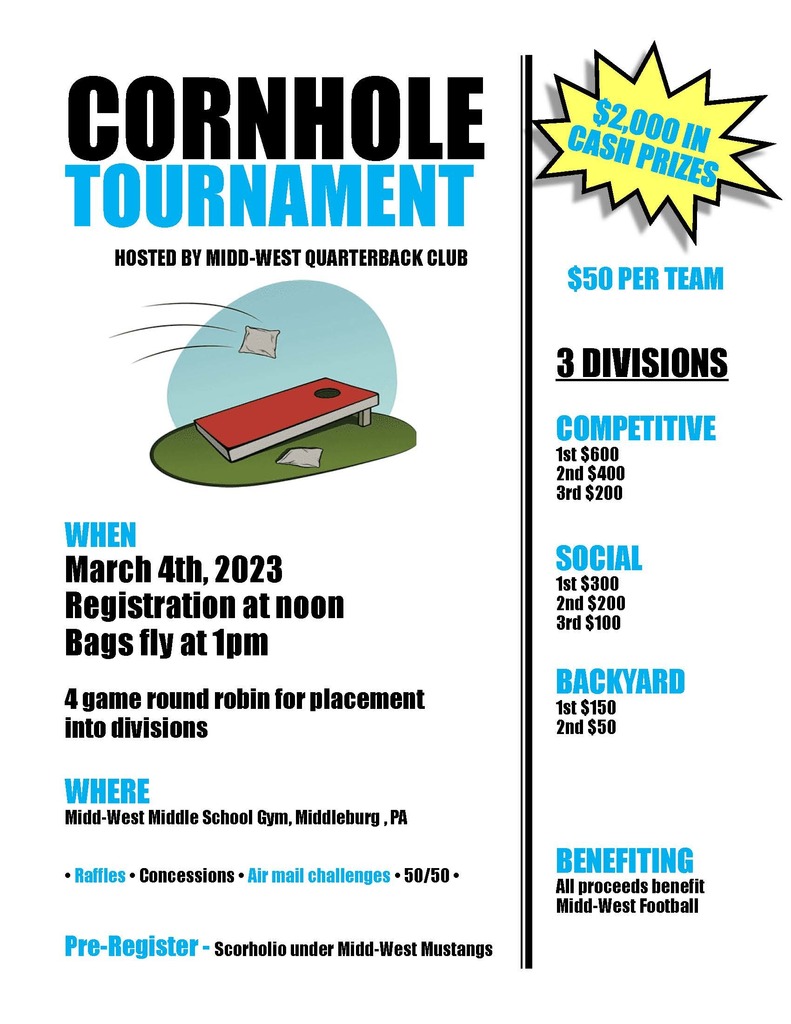 ATTENTION ALL JH AND VAR FOOTBALL PLAYERS: Reminder that workouts will start this week (Feb. 27th): Junior High – Wednesdays after school in the Middle School gym JV/Varsity – Sundays 4pm to 6pm in the Middle School gym All players should be prepared to workout in the gym AND on the field. Also, there will be a mandatory parents meeting on Sunday, March 5th at 5:30pm in the Middle School gym. This meeting will be for all parents of players that are currently in grades 6th thru 11th grades. Important information regarding workouts, camps, practices, fundraisers, communication, etc will be issued at that time. All parents should plan on attending.

Midd-West senior, Sarah Shupp, has signed her letter of intent to continue her academic and athletic career at Mansfield University. Sarah will be a member of the Mountaineers softball team. Congratulations and we wish you the best in your college career. Sarah is seated with her brother, Kyle and parents Denise and Kevin Shupp. Standing is Mr. Ed Gunkle - High School Principal, Mr. Joe Stroup - Superintendent of Schools and Dr. Dane Aucker - Director of Curriculum Sarah and MW Head Coach Voss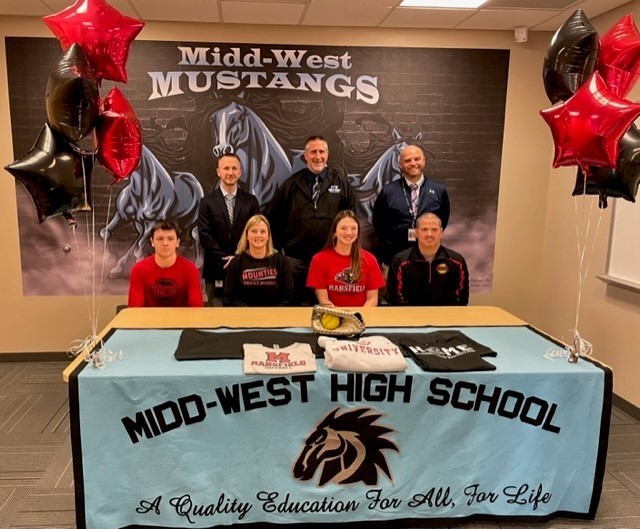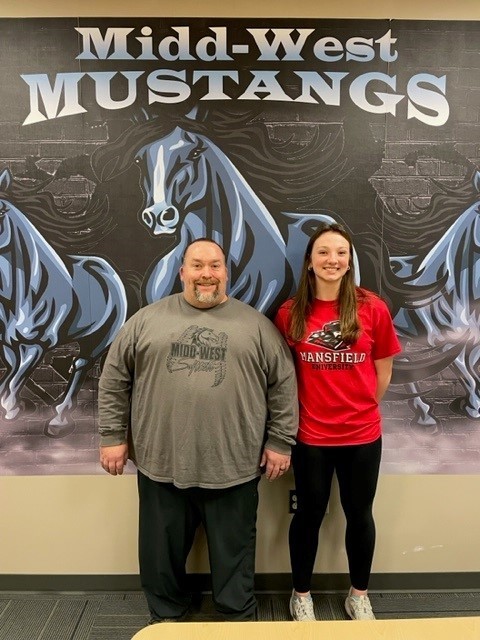 Congratulations to Matthew Smith, Conner Heckman and Charles Paige for advancing to the Regional wrestling tournament at Williamsport HS on March 3-4. Matthew was a District champion at 127 lbs, Conner was runner-up at 133 lbs. and Charles finished 5th at 139 lbs. Good luck this weekend on the quest to Hershey! Below is the link to purchase tickets. No tickets will be sold at the door.
https://piaa.hometownticketing.com/embed/all?sports=Wrestling&class=2A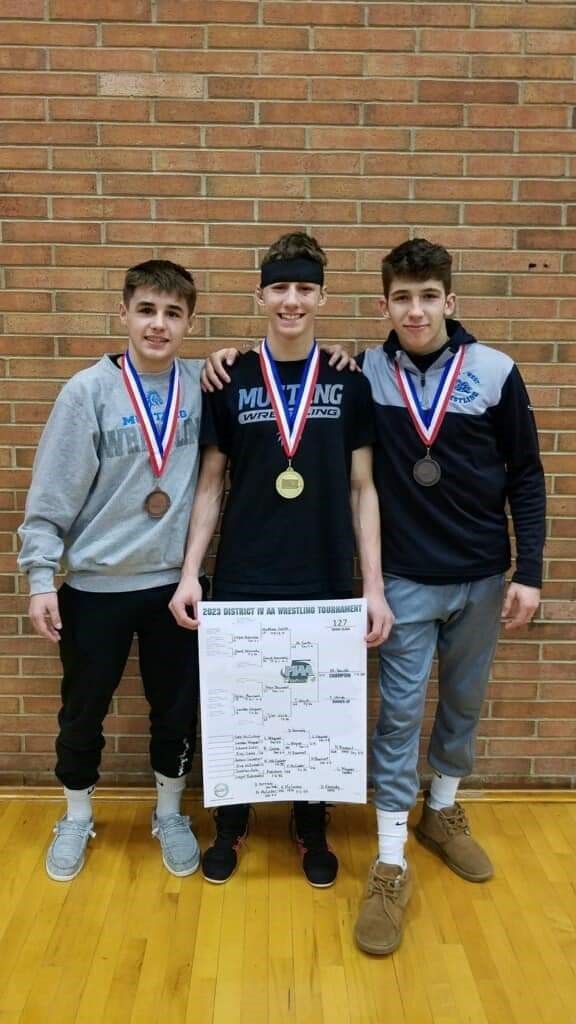 Congratulations to the Midd-West wrestlers who competed in the Southern Sectional this past Saturday at Southern Columbia. Midd-West had a great day, finishing 3rd in the section as a team. Three Mustangs were champions, two earned a 3rd place finish and one 4th place finish. The following have advanced to next weekends District tournament at Williamsport: Champions - Matthew Smith, Conner Heckman and Kyle Ferster 3rd Place - Charles Paige and Bryce Hackenburg 4th Place - Jay Yount Congratulations and Good Luck this weekend! Attached is a QR code to purchase tickets. Tickets will not be sold at the door.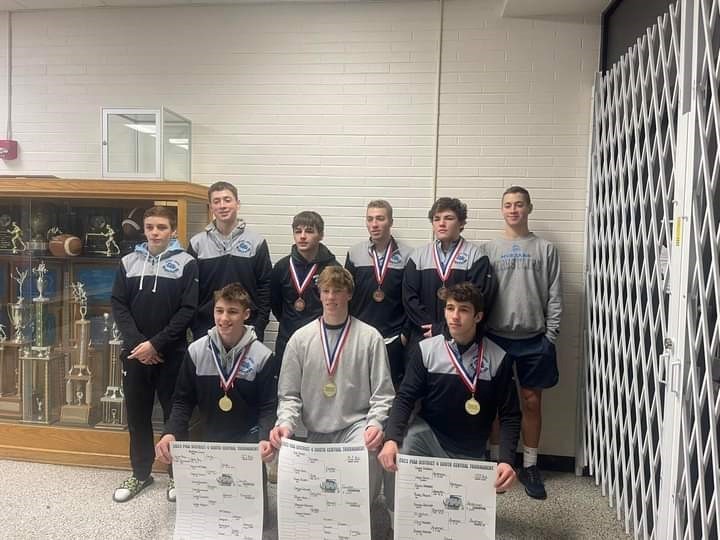 Reminder to all Spring athletes, both senior and junior high, there is a meeting for all participants and parents on Monday, Feb. 20th at 6:00 pm in the high school auditorium. Participants and a parent/guardian are required to attend. We will discuss PIAA and MWSD rules and coaches will go over information for the upcoming season.

Any baseball player who is age 13-15 and is interested in playing Babe Ruth baseball should attend sign ups on Monday or Tuesday night from 6:00-7:00 pm at West Snyder gym. Contact Skip Shellenberger at
skipshellenberger@yahoo.com
with questions.

Congratulations to the Midd-West boys and girls bowling teams who qualified for the Regional Tournament in Lancaster on March 3-4. Three MW individual bowlers will also be competing in the individual tournament. Kyle Beward (who finished the season with the highest average in the PHAC) will represent the boys and Paige Aucker and Ava Hoover will represent the girls team. Congratulations and Good Luck to both teams!

Today's (2/9/23) JH boys basketball game at Meadowbrook Christian will start at 3:45 pm

Attention all students who are interested in participating in a Spring sport, sign ups are happening this week. If you have already participated in a fall or winter sport and you have a Healthy Roster account, you can add a section 8 recert form and fill it out for the Spring season. Contact Mrs. Solomon at
bsolomon@mwsd.cc
if you have any questions. If you have not participated in a sport this school year, you will need to contact Mrs. Solomon for the correct paperwork. Below are the options to choose from: 9-12th grade: Baseball, Softball, Track and Field and Girls Lacrosse 7-8th grade: Soccer and Field Hockey

Today's JH boys basketball game with Northumberland Christian is postponed. There will be JH basketball practice in the middle school from 4:30-6:30 pm.

Today's athletic events (Jan. 19th): Wrestling travels to Shamokin - JH @ 6pm, followed by varsity JH Boys Basketball hosts Lewisburg at 4:00 pm Girls Basketball hosts Meadowbrook - Varsity only at 7:00 pm