Midd-West schools soon to be powered by the sun!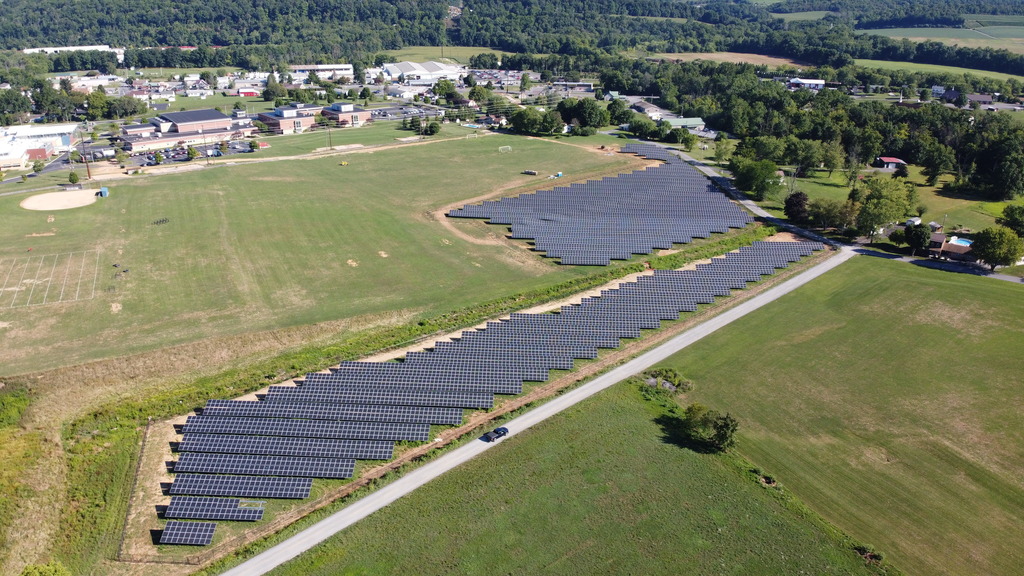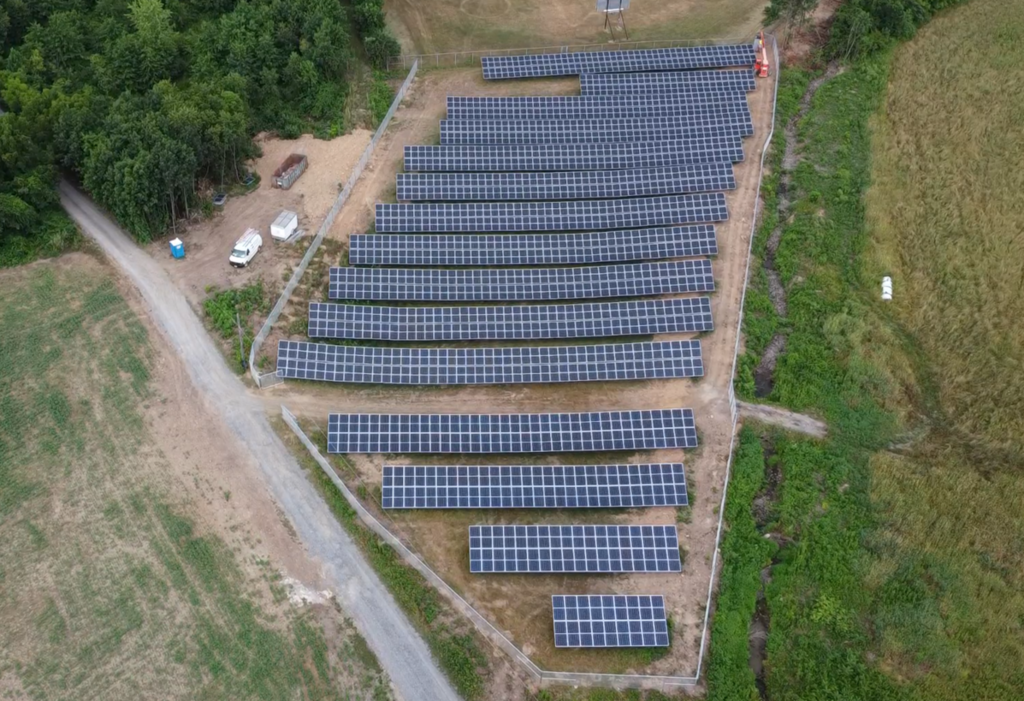 Attention MWHS students, any student who STILL has a textbook in their possession from last school year, please bring the book(s) along with you to back to school night tonight from 5:00-6:30 if you are attending, or if you aren't attending this evening, bring the text(s) on the first day of school.

Mr. Musselman addressing the staff with his message of encouragement and support from the school board and the administrative team as the Mustangs begin the 2020-21 school year.

Midd-West staff is back today for our first day of in-service for the 2020-2021 school year. Everyone is learning and preparing for the first day of school on Monday, August 24, 2020. We look forward to seeing all our students as the school year begins.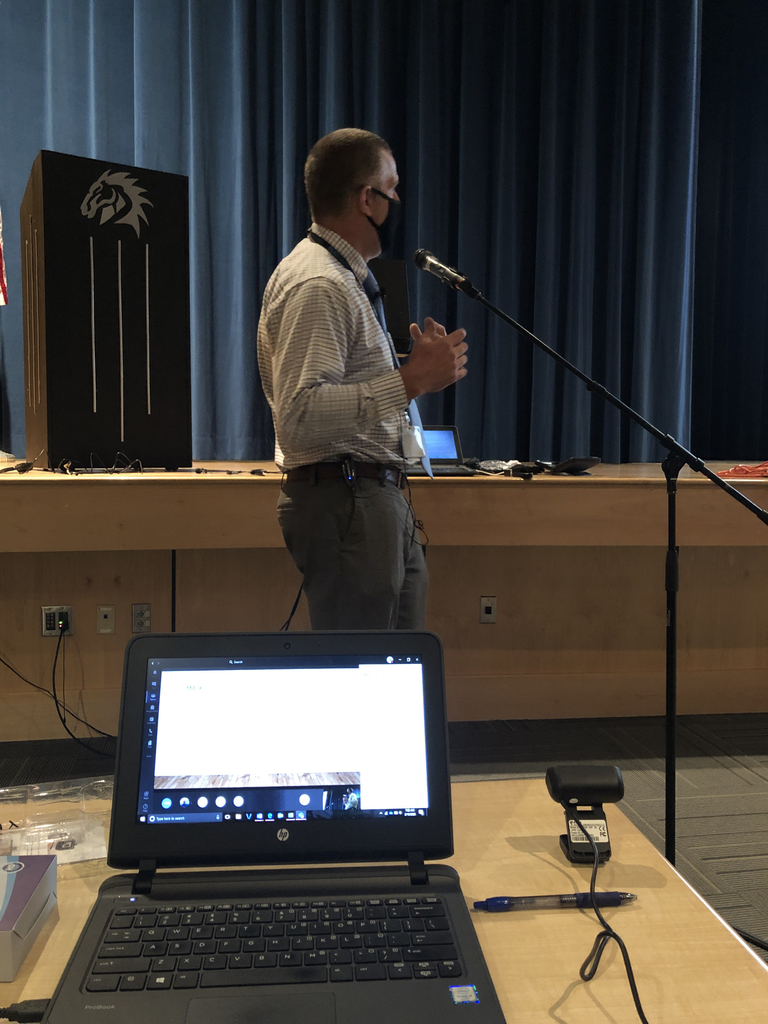 Reminder to all incoming 8th grade students, you must return your laptop to the high school. You will be receiving a different machine this year. You must hand in your current machine before you may receive the new one. Machines can be brought to back to school night tomorrow at 5:00.

Just a friendly reminder. MWMS Back 2 School is TONIGHT! 6th grade 5-6:30. 7th grade 6:30-8! See you all tonight! 😷👍🏼

Attention seniors attending Sun Area Technical Institute, due to the change in the schedule, there will be two meetings with the attendees to accommodate the change in the schedule. All students scheduled to attend Sun Tech on Mondays and Wednesdays will meet Monday morning as originally scheduled. Students who are scheduled to meet Tuesdays and Thursdays will meet Tuesday morning, same scheduled time as Monday. Sun Area Technical Institute has informed us that they will be contacting seniors to let them know if they are a Monday/Wednesday or a Tuesday/Thursday cohort.

The bus assignments have been successfully uploaded to the Sapphire portal and ready for parents to view. The only post cards that are being mailed this year are for the kindergarten students. If you are having issues accessing the portal, you may contact the building secretary where your child is enrolled for assistance. As change requests and new enrollments are being processed daily, please recheck the portal closer to the first day of school for any updates. Thank you

Attention MWHS parents and students. On Wednesday August 19th, there will be a back to school night with a brief orientation for new students and 8th grade students as well as schedule pick-up for all students. Schedules will be available for pick up in the gymnasium that evening from 5:00 – 6:30. However, if you do not want to attend this event, schedules may be picked up in the main office from August 17th – August 21st, from 9:00 a.m. to 2:00 p.m.. Additionally during that time, new students and 8th grade students may find their locker and try out their combination and also request a brief tour. If you do not come in on the evening of the 19th or during the week of the 17th – 21st during the day, schedules will be available on the first day of school in the Supervised Study class. Schedules are also available on Sapphire, so students can find their Supervised Study room there. On the first day, as soon as students enter the building they will either go to breakfast (and then to Supervised Study) or to their Supervised Study. For those without Sapphire access, there will be rosters posted at various locations for students to find their Supervised Study. From the second day on, all students will report to breakfast (and then to 1st period) or 1st period. The first day is the only day students will report to Supervised Study, which also serves as their homeroom, so they can retrieve their schedules.

Attention MWMS Students: Please check your Sapphire portal and/or the MWMS web page for a welcome back letter and information about Back to School Night for MWMS students on Tuesday, August 18. 6th graders will visit from 5:00-6:30pm and 7th will visit from 6:30-8:00pm. Also, student schedules are still being edited due to the health and safety guidelines changes so they are not yet finished and will be posted to Sapphire in the coming days. We appreciate your support and understanding! If you have any questions, please contact the MWMS office. Have a great day!

You are invited to participate in our August 10th School Board Meeting by using the public link below. You must enable your video and mute your microphone. This is a formal public meeting and comments will only be allowed at designated times in the meeting. Time: August 10, 2020 07:00 PM Eastern Time (US and Canada) Join Zoom Meeting
https://us04web.zoom.us/j/75696098497?pwd=am1oNTVGenhSTXNxV1VsQkltMkVIUT09
Meeting ID: 756 9609 8497 Passcode: H8fQV9

Parents of incoming Kindergarteners: Due to COVID-19 and the state requirements currently, we regretfully have to cancel Kindergarten Camp this year. You will be contacted In the next two weeks about setting up an appointment for your child to be screened individually and for any paperwork to be collected. We apologize for this inconvenience. Looking forward to seeing you all in August. Stay healthy!


Looking for Info on returning to school this fall? Check out our News Feed for more information and links to our plans and to register for one of the public meetings.


ME Families don't forget to come pick up your Marianna's Hoagie order tonight from 3:30-6 pm in the front of ME. It will be a drive through pick-up. Thank you!