Attention WSE Parents, Please note that our doors open at 7:40am. Please do not drop your child off before that time. Parents please pull your vehicle all the way to the front of the line to speed up the process. Also, if the school doesn't already know your child's evening pick up status let the office know ASAP. Thank you for understanding in this matter. Thank you, Me. Aucker

Good evening ME families! We had an absolutely amazing first day back! Thank you for being patient with us as we work out the kinks! Your child should be bringing home a letter alerting you to our doors opening at 7:30 starting tomorrow. Have a wonderful evening and we look forward to seeing all of their smiling faces tomorrow!
Just a reminder that West Snyder Elementary will be holding the following this evening, August 19th. Kindergarten Orientation- 6:30-8:00 Back-to-School Grades 1st-5th - 5:00-6:30 Hope to see you there!

Just a reminder that Middleburg Elementary will be holding the following this evening, August 19th. Kindergarten Orientation- 5:00-6:30 Back-to-School Grades 1st-5th - 6:30-8:00 Hope to see you there!

Hello Mustangs, Back to School Night for Midd-West High School students and their families will be Wednesday, August 18 from 5:00-6:30. Students will be able to view their schedules, meet their new teachers, and check their lockers. 8th grade and new students will report to the auditorium for orientation starting at 5:15. At the conclusion of the orientation, those students will then be able to view schedules, visit classrooms, and try their lockers. We look forward to seeing you at Back to School Night Wednesday, August 18 from 5:00-6:30 or on Tuesday, August 24 at 8:00 a.m for the first day of school.

MIDD-WEST SCHOOL DISTRICT S P E C I A L M E E T I N G N O T I C E The Board of Directors of the Midd-West School District will hold a special meeting on Monday, August 16, 2021, at 7:00 p.m. in the Large Group Conference Room at Middleburg Elementary School for the purpose of personnel items and to conduct any other business the Board deems necessary.

Midd-West School District Back-To-School Nights Middleburg Elementary August 19th Kindergarten Orientation - 5:00 to 6:30 Back-to-School Night 1st grade - 5th grade - 6:30 to 8:00 West Snyder Elementary August 19th Back-to-School Night 1st grade - 5th grade - 5:00 to 6:30 Kindergarten Orientation 6:30 to 8:00 Midd-West Middle School August 18th -5:00 to 6:30 Midd-West High School August 18th - 5:00 to 6:30

Good morning Kindergarten families! If you are dropping off your child at Kindergarten Camp, doors will be opening at 9:25 on August 16th. Kindergarteners will be dismissed at 11:45 from the front of the building. If you have specific questions please call your child's school office and we will be happy to answer them. See you Monday morning!

CORRECTION: The start and end time for all MWSD students is 8:00am-2:57pm. We apologize for any confusion. We will see everyone at 8:00am on Tuesday, August 24 for the first day of classes.

Good afternoon Kindergarten families! Please make sure you have registered your incoming kindergartner for our upcoming Kindergarten Camp. If you need bus transportation for camp please indicate this on the registration form or call your child's school office. If you will be dropping off and picking up your child at camp please do so at the front of the building. I have attached the letter that you should have received in the mail to register for camp. If you have trouble accessing the registration form or have questions, please call the office of ME or WSE and we will be happy to assist you. Looking forward to seeing all of our new smiling faces in a few weeks!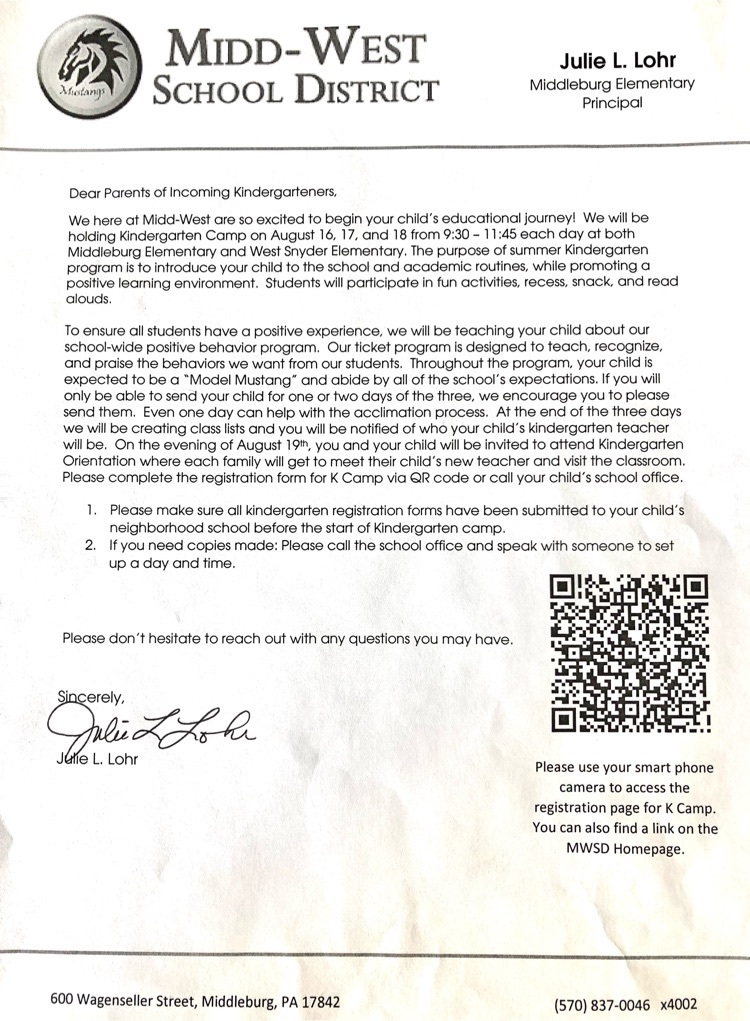 CONGRATULATIONS! the following Midd-West Softball players for earning Daily Item Allstar Status: Second Team Allstar Sarah Shupp - First Base Caroline Zerby - Second Base Honorable Mention Marlo Spriggle - Outfield Teagan Schreffler - Outfield

Due to the lessening of COVID – 19 restrictions all MWSD Board of Director Meetings will return to a live format. There will be NO Zoom broadcast or participation as of June 1, 2021. Individuals wishing to speak at board meetings will need to attend in person, and they must adhere to all school district policy in those regards. We thank you for your support in the past year, and we welcome our return to normal!


Congratulations to the MWHS Baseball team, 2020-2021 District IV Champions!!!


We are having trouble with our YouTube live feed. We apologize for this. Graduation will be recorded and shared at a later time.

Good Afternoon ME Families! Your student will be coming home with a bag of books and items that they can use throughout the summer months. We encourage you all to read together this summer and enjoy the break! Thank you so much for all of your support this year amid the ever-changing challenges. We hope to see all of our students back tomorrow for their last day of school. Don't forget that tomorrow is a 11:15 early dismissal! See you tomorrow!

*Commencement Change* Greetings Mustangs, Unfortunately, the weather pattern for this coming weekend is not looking promising. Although we planned several rain dates for the commencement ceremony, it takes many hours of preparation to set up for the ceremony and part of that set up includes electronic equipment. So, we feel that all three dates might be compromised by the weather. In an effort to accommodate our graduating seniors, we felt the best decision was to move the program indoors. This will allow seniors to graduate on the originally scheduled night and give families the entire holiday weekend for other celebrations to take place. The commencement ceremony will now be held at Midd-West Middle School in the gymnasium on Friday, May 28th at 7:30 pm. Ticket holders will still be allowed to enter at 6:15 pm, and non-ticket holders may enter at 7:00 pm. Although we are hoping all can fit into the middle school gym, we will also have an overflow section in the middle school cafeteria with a view of the stage if we need the space. We ask that all in attendance wear a mask while in the building. Thank you.

School Board Meeting May 24th, 2021 7:00 - 9:00 Join Zoom Meetinghttps://us04web.zoom.us/j/76885590928?pwd=NG5qdTlIekg4aG01bGVuRXFaaVUxQT09 Meeting ID: 768 8559 0928Passcode: xCjM1L