West Snyder Elementary misses you!

Instruction for Sapphire Log On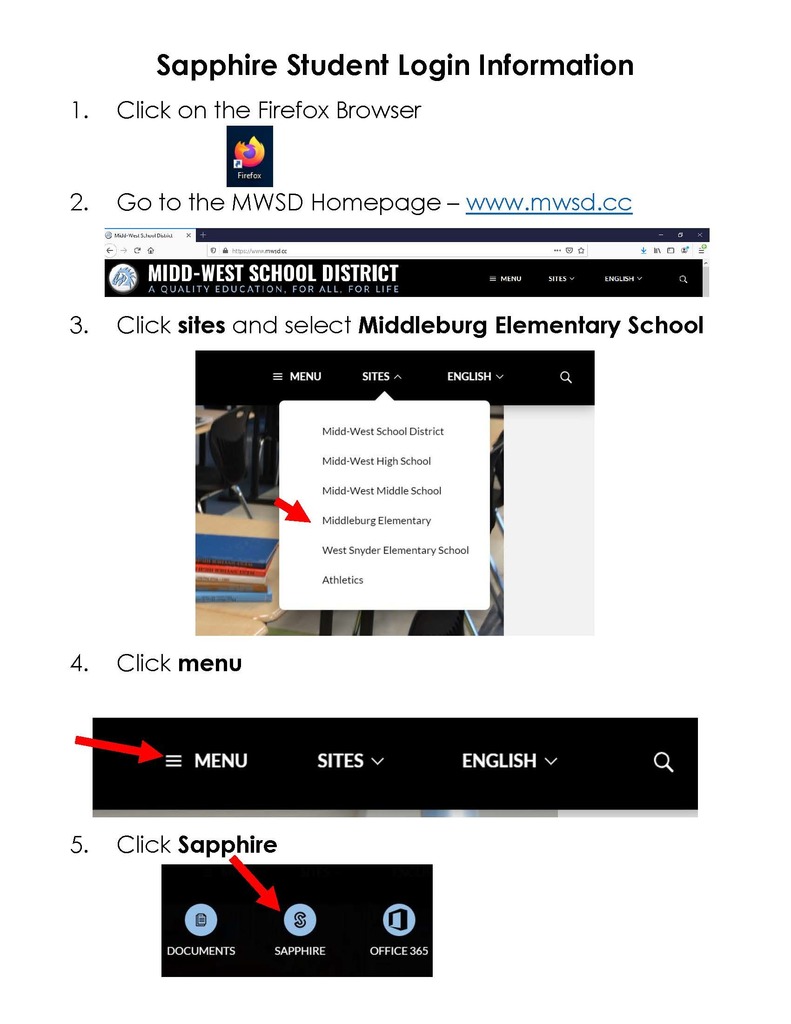 Good evening West Snyder Families, In an effort to support your child educationally during this extended school closure the Midd-West School District will begin to share mobile content for enrichment and review on March 30. Teachers will be posting resources and activities on Sapphire. Please note: Internet access is required to access Sapphire. Since our elementary students do not have their own devices we have arranged for elementary families to borrow district laptops. If you have a child in grades 6-12 as well as an elementary student, we are asking that the elementary child be allowed to use their older sibling's computer. For families with students only at the elementary school we will assign you a laptop to borrow for the duration of the school closing. We will be issuing 1 laptop per 3 children. If you have a laptop or desktop at home that you would prefer your child use, that is great, you are not required to use a district laptop. If you are not borrowing a laptop your child's Sapphire information will be sent to you via his/her classroom teacher on Thursday, March 26. Laptop distribution will occur tomorrow, March 24 and Wednesday March 25 from 11 am – 1 pm at West Snyder Elementary School. Please follow the signs posted as we will follow a drive-thru format with all individuals remaining in their vehicles. We appreciate your flexibility and understanding. We want to continue to support you, your child, and your family during this difficult time. Laptop distribution will be tomorrow, March 24 and Wednesday March 25 from 11 am – 1 pm at West Snyder Elementary. This also coincides with our lunch distribution so plan to grab a bagged lunch while you are here. Thank you, Erin Sheedy

Meals available while school is closed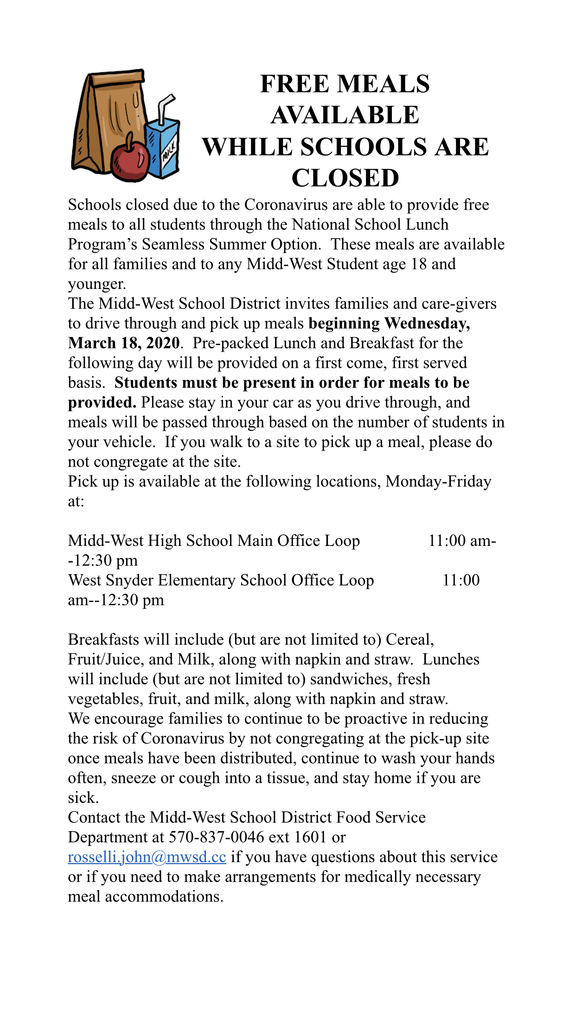 Due to the closing of all PA schools, Kindergarten registration for the Midd-West School District has been postponed. We apologize for this inconvenience. Rescheduled dates will be forthcoming. Thank you for your patience and support.

Be a part of helping us organize our website! You can provide constructive comments or suggestions by emailing them to:
webmaster@mwsd.cc

New MWSD Webpage and App Midd-West School District now has a new look to the webpage! Also, go the Play Store and download our new App (search for MWSD)for the latest news and updates from the school district.