Hello MWMS, This message is to inform you about what the next 5 days of school will look like while we are in distance learning. Most importantly, with the impending weather, you will NOT hear or notice on the various media platforms that MWSD will be "closed." We are still going to be providing instruction to the students like normal, just in a virtual setting. All students are still required to log into their sapphire or Teams and follow the stated directions. Some classes will be delivering live content so it is crucial students log in every period to understand their assignment and also be marked present for their daily attendance. Additionally, if you have any situations arise within your family related to COVID 19, please contact the middle school office at 570-837-0046 ext. 3001 and leave a message. Thank you and have a fantastic holiday season.

Hello MWMS, This message is to inform you of the direction MWMS will be taking during the two weeks of distant learning. This will also be posted on the MWMS web page for future reference. All students will start their distance learning on Wednesday, November 4 and continuing through Friday, November 13. Students will not have school starting at 12:15pm on Thursday, November 5 and all day Friday, November 6 as the MWSD is closed on these two days for parent-teacher conferences. Starting on Wednesday, November 4, students will log into Microsoft Teams on their district provided laptops and follow their normal schedule. Wednesday will be a Day 3. Thursday will be a Day 4 and Monday will be a Day 5, etc. They will receive live instruction in their core classes (ELA, Math, Social Studies, and Science) and also some select related arts classes. Some related arts classes are not conducive to live instruction so therefore, students will need to keep up to date with these class assignments via Sapphire and/or Microsoft Teams. Attendance during this distance learning period is required and students are held accountable for their work and grades. Unless your students' teacher instructs you differently, your student will follow their normal schedule throughout the day until in person instruction can again resume. Parent teacher conferences will not be in person. A follow up announcement will be made at 4:00pm today giving details of the virtual conferences. We also understand there are multiple areas that internet is unstable and/or nonexistent. If this is the case, please contact the middle school to check on the availability of a hot spot. We have extremely limited quantities of the hot spots so we cannot make any guarantees. If you do not have a hot spot, we encourage you to visit the local places that have free Wi-Fi in your area or you are even welcome to visit any MWSD building and use the Wi-Fi on your school issued computer from the parking lots. There are a few laptops that were not taken home with the students from Friday and need to be picked up. Please make arrangements to pick up these machines during normal MWMS business hours of 7:30-3:30. The laptops are critical in the overall success of your student while in our distance learning phase. Finally, any virtual students who were recently added to the virtual instruction mode due to quarantining, should now follow their normal schedule. Students who normally receive virtual instruction will follow their virtual instruction schedule as there isn't a change to those students. If you have any additional questions, please contact the middle school office. We will work through this process together as we know and understand this wouldn't be possible without your help and support. We thank you for your support and understanding during these challenging times. We will get through this together because we are MWMS Strong!

Dear Families, On Wednesday, November 11th, Midd-West Middle School will be celebrating Veterans Day. Due to the ongoing pandemic, we are unfortunately unable to have our annual in-house Veterans Day assembly. Instead, we have decided to partner with Middleburg Elementary School to have a Veterans Day Parade. For this parade we ask that you drive your vehicle following a specific route. The route will be sent home to you after you register. As you drive by, our students and teachers will be there to honor and celebrate you and all the sacrifices you have made for us! If you would like to participate in this event, we ask that you preregister by using the online RSVP link that can be found on the MWMS homepage or email the middle school office at
eauman@mwsd.cc
. If e-mailing a registration, please include your name, branch of the military, phone number and MWSD student name (if applicable). Deadline for registration will be Monday, November 2nd. Once registered more information will be sent home. If you have any questions, please contact the middle school office.

The Midd-West Board of Directors approved a schedule change on Monday, September 28th. There will now be two half-days during the month of October so please plan accordingly. On Friday October 9th, and Friday October 23rd, the Midd-West School District will dismiss at 12:15. All students will be served a lunch prior to departing on these dates.
Remember... Tomorrow (Friday, September 25th) is MWMS Fall Picture Day. If you are ordering pictures, please send the photo envelope and payment with your student. You can also order photos before picture day tomorrow by visiting mylifetouch.com and entering our school code EVTRT2CGF Even if your child is not ordering pictures, all students will be photographed for the school yearbook.
This is a reminder that the book fair ends tomorrow (Friday)!
https://efairs.follettbookfairs.com/guest/home
It's not just limited to what appears as suggested items. You can search keywords and subjects and titles to explore the Follett catalog of available items. There is also great variety. Check it out! All orders should be placed online using the ordering link above.

Attention Midd West Middle school, Are you ready to book fair like you've NEVER book faired before? A virtual Follett book efair will be held from September 21-25th. To browse the fair and buy books visit
https://efairs.follettbookfairs.com/
and enter Z4LGR in the "Enter Efair code" box. After the fair the books you purchase will be delivered to MWMS, and will be delivered to your homeroom. Sales will support the library, so not only will you have a book to read that you get to keep, but we will be able to purchase some new books for you to check out in the library! You can view the fair now, but you cannot purchase until Monday Sept 21st. Happy bookfair and happy reading!

The bus assignments have been successfully uploaded to the Sapphire portal and ready for parents to view. The only post cards that are being mailed this year are for the kindergarten students. If you are having issues accessing the portal, you may contact the building secretary where your child is enrolled for assistance. As change requests and new enrollments are being processed daily, please recheck the portal closer to the first day of school for any updates. Thank you

MWMS 6th grade students who are planning to attend Back to School Night on Tuesday, August 18 from 5:00-6:30 p.m. are also asked to return their school issued laptop and charger on this night. Please do not forget to bring both the laptop and charger that were issued to you last year. You will receive a new laptop and charger on the first day of school that will service you for the two years you are in the middle school. MWMS 7th grade students: Please keep your laptops and chargers and bring a fully charged laptop on the first day of school, Monday, August 24. You will use the same devices throughout your 7th grade year.

The Midd-West School District Board of Directors and the Administration understands that there are many concerns about what a return to school may look like in August due to the COVID 19 Pandemic. School districts around the state are required to approve a Return to School Plan and submit that plan to the Pennsylvania Department of Education before returning to any type of in-person instruction in the fall. In an attempt to involve our stakeholders and have an open dialogue about what a return to school should look like in the fall, the Midd-West School District would like to invite community members to our buildings to learn about our tentative, draft plans. This way, we can learn how these plans may impact our families and attempt to find ways to make the plans reasonable, safe, and effective for all our constituents. The meetings are scheduled on the following evenings. Individuals may attend a session at the building that best meet their needs. The same information will be presented at each site so there is no need to attend multiple sessions. Date Time Location July 8th 6:00 pm Midd-West High School Auditorium July 9th 6:00 pm Middleburg Elementary School Gymnasium July 13th 6:00 pm Midd-West Middle School Gymnasium July 14th 6:00 pm West Snyder Elementary School Auditorium The following link takes you to a sign-up sheet for each building's evening event. We ask that you complete the sign-up for each member of the family that plans to attend. We are trying to limit group to 250 individuals. We will schedule additional evenings, if needed, to host additional participants. Thank you for your understanding of this!
https://forms.office.com/Pages/ResponsePage.aspx?id=zgCATiv4uEGfT4IC6Vco4hZWlT1JV8xDq58YA6far1FUQVYwQVBSVkNZUUhCRTJSVzE4Tk5GUE5QOC4u
Lastly, the link at the bottom, takes you to a rough draft of the Midd-West School District's Return to School Plan. This is still very much a work in progress. It is designed to be flexible, individualized, responsive, and adaptable for each family. If you have questions about the plan, but cannot attend any of the meetings, please send those to our email address at
mwsd.info@mwsd.cc
. We will attempt to answer them promptly and generate a list of frequently asked questions for everyone to access. Scenarios for Fall Learning 2020 - Draft
https://5il.co/hqby


Hey MWMS and the incoming 6th graders and new 7th graders! Your tentative schedule along with a Virtual Move Up Day will be posted in the near future. We are still tweaking the schedules. Sapphire will display your tentative schedule and a link will be posted on our middle school website for the Virtual Move Up Day. When everything is ready, a message will be sent out to all students to notify everyone. To the incoming 6th graders, if you do not yet have a Sapphire account, please visit the district main webpage and register for an account. All communication from the school will occur via Sapphire from 6th grade till they graduate high school so it is crucial you have an Sapphire Community Portal Account. If you have any questions, please contact the middle school office. Stay tuned! Enjoy the start of summer next week!

You are invited to participate in our May 26th School Board Meeting by using the public link below. You must enable your video and mute your microphone. This is a formal public meeting and comments will only be allowed at designated times in the meeting. Topic: Board Meeting May 26, 2020 Time: May 11, 2020 07:00 PM Eastern Time (US and Canada) Join Join Zoom Meeting
https://us04web.zoom.us/j/78974302355?pwd=Z1JkV1RiRnh0b0Z3UXRWbHFEbHVxdz09
Meeting ID: 789 7430 2355 Password: 3ztfqd

MWMS collection of materials and distribution of personal items still at the school on Tuesday, May 19 from 9:00am-2:00pm, Wednesday, a May 20 from 9:00am-2:00pm, and Thursday, May 21 from 1:00pm-6:00pm. Please visit the district website for more details.

You are invited to participate in our May 11 School Board Meeting by using the public link below. You must enable your video and mute your microphone. This is a formal public meeting and comments will only be allowed at designated times in the meeting. Topic: Board Meeting May 11, 2020 Time: May 11, 2020 07:00 PM Eastern Time (US and Canada) Join Zoom Meeting
https://us04web.zoom.us/j/76192462623?pwd=WUhuZGhOak9IbWI2dzc4UU9OaUlLUT09
Meeting ID: 761 9246 2623 Password: 0L9R96


Shout out to our wonderful support staff!!!! Paraprofessionals, secretaries, and nurses on helping to distribute computers and locker belongings! What a great group of people who came together in a time of need! We got in a lot of exercise minutes/steps but it was worth it! MWMS Strong! 💪🏼

MWSD Meal Distribution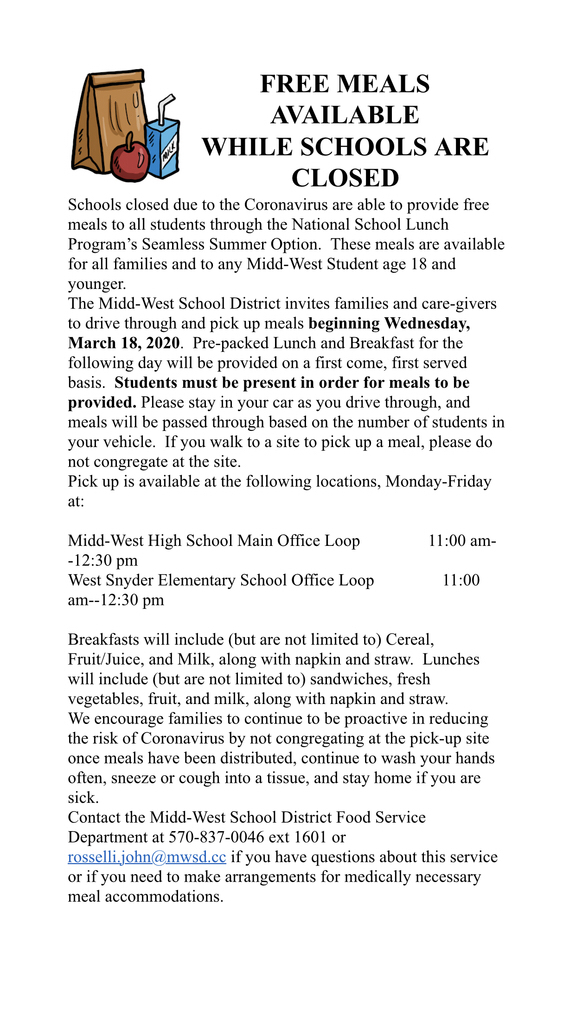 Be a part of helping us organize our website! You can provide constructive comments or suggestions by emailing them to:
webmaster@mwsd.cc

New MWSD Webpage and App Midd-West School District now has a new look to the webpage! Also, go the Play Store and download our new App (search for MWSD)for the latest news and updates from the school district.