Attention students, scheduling for the 2021-2022 school year will begin during the week of January 25th and will end on February 5th. A course book will be sent to all student laptops so you can read course descriptions to assist you with your choices for next year. On Monday, January 25th, 11th grade students will be able to start selecting their senior year courses. On Tuesday, January 26th, 10th grade students will be able to start selecting their 11th grade year courses, on Wednesday, January 27th, 9th grade students will be able to start selecting their 10th grade year courses, and on Friday, January 28th, 8th grade students will be able to select their 9th grade year courses during their Choices class. Starting Friday, January 28th, Mrs. Andrews will begin working with 7th grade students to select their 8th grade electives for next year.

The Annual Midd-West High School Music Boosters Raffle Ticket Auction (aka Chinese Auction) scheduled for March is CANCELLED for the 2020-2021 School Year. Thank you to all the patrons, sponsors, and supporters that have participated in the auction throughout the years. Your help is appreciated. We hope to hold our auction next year. Thank you supporting the arts. Please share the information with others

Senior Photo Retakes - December 22, 2020, 7:00 am - 12 noon. Midd-West High School Auditorium.

During the winter holiday break, we ask that you please keep us informed of any developments with your student's health. Additionally, if you have any situations arise within your family related to COVID-19, please contact the high school nurse at 570-837-0046 ext. 2400 and leave a message.

Attention Midd-West High School Students: Classes will continue as remote learning until the winter break. We are currently scheduled to return to in building instruction on Monday, January 4th, 2021. All students are reminded that they must attend their regularly scheduled classes during their regularly scheduled times utilizing the Microsoft Teams platform. If you experience any connectivity issues, you must contact your teacher, as attendance is still being kept during remote learning.

Student Lunches are available weekdays through December 16 at the High School. Pick up at Shuman St. Main Entrance.

Correction, Tech students who ride the bus CAN be picked up at home by their regular bus and transported to the High School to catch the bus to Sun Tech. Sorry for the confusion!

Midd-West High School will move to remote learning from Friday, December 11th through Wednesday, December 16th. We will return to in building instruction on Thursday, December 17th. All students are expected to follow their schedules and attend any live or recorded Teams sessions. Additionally, please check Sapphire daily for posted assignments. Parents may contact their child's teacher with any questions. Tech students who ride the bus from the high school to Sun Tech will still be transported at their regular time. Parents will need to provide transportation to the high school.

Due to the current distance learning model the High School is following, it will be necessary to push back the distribution of interim reports to provide the teachers the time necessary to enter make up assignments. Therefore, rather than interim reports being distributed on 12/7/2020, they will be distributed on 12/15/2020.

Hello again FFA students. If you cannot meet the times during school (7:00 a.m. - 3:30 p.m.) to drop off your fruit orders the following times can be utilized for curbside drop-offs at the Agricultural Department entrance (number 10 - which is the entrance to the fitness center and locker room areas as well): Monday or Tuesday 5:00 p.m. - 6:00 p.m. Simply enter the vestibule area and drop completed order packet in the box. Mr. Erb or Miss Liska will take it from there. Please do not enter the 300 hallway, just the vestibule area where the box is. If you cannot make any of these times, please contact Mr. Erb or Miss Liszka and we will attempt to problem solve and find a way.

ATTENTION ALL SENIORS: Senior photo proof forms deadline will be extended to Nov. 16, 2020. We are seeing a large delay in delivery time through the USPS. Please email
rvanhorn@mwsd.cc
if you do not receive them by Nov. 6, 2020. Senior photo retakes scheduled for Nov. 12 has been canceled and will be rescheduled to another date.

Midd-West HS Theatre is preparing their fall play Check Please (Take 1 & 3) by Jonathan Rand. The play centers around a series of unfortunate, crazy, and disastrous blind dates for the two main characters. Our small cast will take you on an adventure of laughs and love. We are planning to do live performances on November 13th and 14th at the high school. However, we will not be offering advanced ticket sales for these performances. We continue to monitor the COVID pandemic cases in our area and will be adhering to all district, state, and federal guidelines and recommendations to keep our audience safely below the maximum recommended capacity for an indoor event at the time of the performance. An online streaming option will be made available for families to enjoy at home via ShowShare by Broadway On Demand. More details about the price, time, and date for the virtual performance will be contingent on our recording and editing the performance(s) with an audience. Information will be posted on the district webpage after November 11th. Produced by special arrangement with Playscripts, Inc. (
www.playscripts.com
)

Midd-West Annual Chinese Auction Click on link for details

On October 28th the senior class parents are invited to attend a class meeting to discuss senior class trip, fundraising and senior class picnic. Parents can attend the meeting in person, with a limit of 120 people, or virtually through Zoom. Zoom meeting ID: 761 453 9673 Passcode:9txby0

SPECIAL COMMUNITY INVITATION The Midd-West Marching Mustangs would like to invite the parents, staff, and community for a special performance of this season's field show featuring selections from the Shrek Movies. During this evening we will also have a special honor for our marching band seniors and additional performances that will feature different sections of the marching band. We hope that you would come a support the band. Friday, October 23rd, 2020 7:00 PM At the Midd-West High School Stadium Free of Charge Donations will be taken to help the marching band raise money for new uniforms.

The Midd-West Board of Directors approved a schedule change on Monday, September 28th. There will now be two half-days during the month of October so please plan accordingly. On Friday October 9th, and Friday October 23rd, the Midd-West School District will dismiss at 12:15. All students will be served a lunch prior to departing on these dates.

MWHS Student Council is selling homecoming t-shirts and would like to invite you to order. The shirts are white, with a black mustang wearing a blue mask. The shirt is printed on both sides. We are offering youth sizes YS (6-8) YM (10-12) , and YL (14-16)... and Adult sizes S. M, L, XL, 2X, and 3X.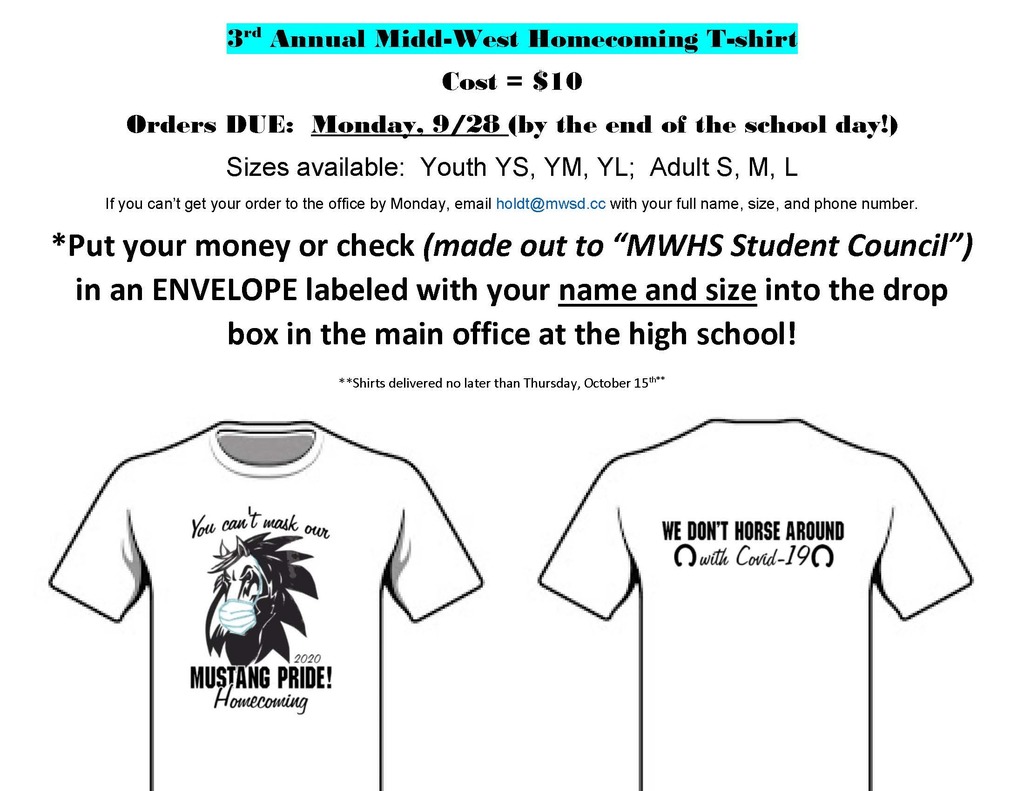 IMPORTANT UPDATE ON SENIOR PHOTOS: All Midd-West Sun Area Tech seniors will be photographed in the west campus CDL room at Sun Area Tech instead of the MWHS. This change is due to the Sun Area Tech students going back to school 5 days a week instead of hybrid.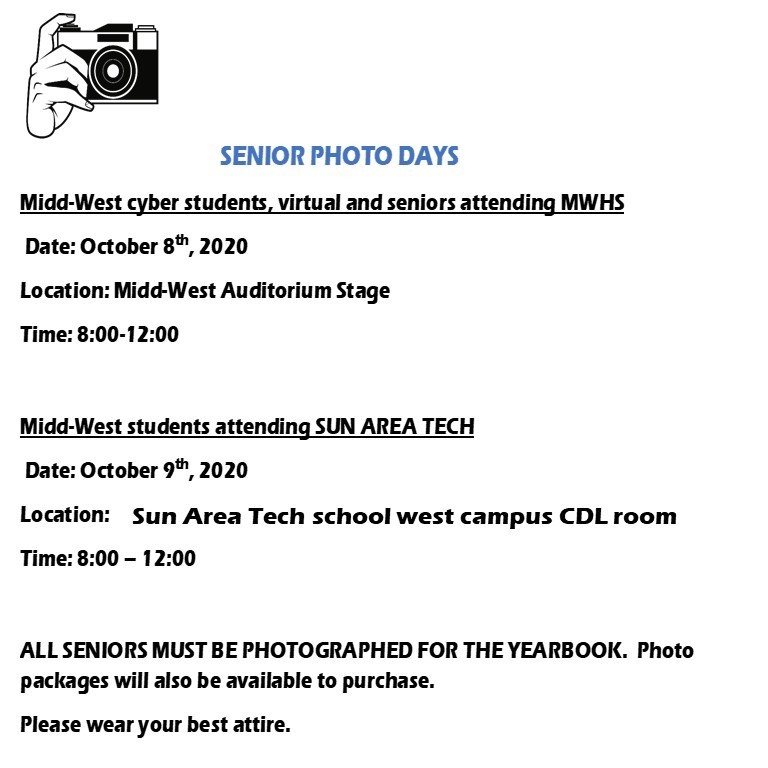 ATTENTION SENIORS AND PARENTS!!!!! See the below post for senior portrait information. All of the portraits are going to be done in school and you can purchase prints or packages. This will save you time and money from having to schedule your own senior photos. ALL SENIORS MUST HAVE PHOTOS TAKEN IN SCHOOL IN ORDER TO BE IN THE YEARBOOK. For more information contact
rvanhorn@mwsd.cc