The Midd-West Board of Directors approved a schedule change on Monday, September 28th. There will now be two half-days during the month of October so please plan accordingly. On Friday October 9th, and Friday October 23rd, the Midd-West School District will dismiss at 12:15. All students will be served a lunch prior to departing on these dates.

Parents if you have not yet done so please log into your sapphire portal and fill out the emergency contact, internet access and student demographic form. If you need paper copies please contact your students teacher or call the office. Thank you!

The bus assignments have been successfully uploaded to the Sapphire portal and ready for parents to view. The only post cards that are being mailed this year are for the kindergarten students. If you are having issues accessing the portal, you may contact the building secretary where your child is enrolled for assistance. As change requests and new enrollments are being processed daily, please recheck the portal closer to the first day of school for any updates. Thank you

Parents of incoming Kindergarteners: Due to COVID-19 and the state requirements currently, we regretfully have to cancel Kindergarten Camp this year. You will be contacted In the next two weeks about setting up an appointment for your child to be screened individually and for any paperwork to be collected. We apologize for this inconvenience. Looking forward to seeing you all in August. Stay healthy!

The Midd-West School District Board of Directors and the Administration understands that there are many concerns about what a return to school may look like in August due to the COVID 19 Pandemic. School districts around the state are required to approve a Return to School Plan and submit that plan to the Pennsylvania Department of Education before returning to any type of in-person instruction in the fall. In an attempt to involve our stakeholders and have an open dialogue about what a return to school should look like in the fall, the Midd-West School District would like to invite community members to our buildings to learn about our tentative, draft plans. This way, we can learn how these plans may impact our families and attempt to find ways to make the plans reasonable, safe, and effective for all our constituents. The meetings are scheduled on the following evenings. Individuals may attend a session at the building that best meet their needs. The same information will be presented at each site so there is no need to attend multiple sessions. Date Time Location July 8th 6:00 pm Midd-West High School Auditorium July 9th 6:00 pm Middleburg Elementary School Gymnasium July 13th 6:00 pm Midd-West Middle School Gymnasium July 14th 6:00 pm West Snyder Elementary School Auditorium The following link takes you to a sign-up sheet for each building's evening event. We ask that you complete the sign-up for each member of the family that plans to attend. We are trying to limit group to 250 individuals. We will schedule additional evenings, if needed, to host additional participants. Thank you for your understanding of this!
https://forms.office.com/Pages/ResponsePage.aspx?id=zgCATiv4uEGfT4IC6Vco4hZWlT1JV8xDq58YA6far1FUQVYwQVBSVkNZUUhCRTJSVzE4Tk5GUE5QOC4u
Lastly, the link at the bottom, takes you to a rough draft of the Midd-West School District's Return to School Plan. This is still very much a work in progress. It is designed to be flexible, individualized, responsive, and adaptable for each family. If you have questions about the plan, but cannot attend any of the meetings, please send those to our email address at
mwsd.info@mwsd.cc
. We will attempt to answer them promptly and generate a list of frequently asked questions for everyone to access. Scenarios for Fall Learning 2020 - Draft
https://5il.co/hqby


Marianna's fundraiser will be available to be picked up on TUESDAY, JUNE 16th FROM 3:30-6:00 PM We will be doing this the same as the Gertrude Hawk Fundraiser, a drive through pick up service. Thank you to everyone for being so patient and understanding during this time.


Hello ME Families, On Tuesday, May 26th from 12 – 6 pm and Thursday, May 28th from 10 – 1pm we will be distributing all student materials and items that were left in the building. We will be conducting this in a drive through fashion and would request that everyone remain in their cars and go through the line. In order to help us make this process as fast and smooth as possible I am requesting that you have the names of the students you are collecting items for on a paper that you can easily display in your windshield. Please make sure the names are large enough to be easily read. We will also be collecting the following items during this time so if you have any of the items below, please bring them with you to give to a staff member: Library books Recorders that were borrowed Music Fest Music and/or Chorus folders Books from the classroom Math workbooks Any completed packets I would also encourage you to bring your student(s) along if possible as there will be staff there to wave and wish them well for the summer! If you are unable to retrieve your child's items during one of the windows, please contact the office and you can set up a time with us to do so. If you have any questions, please do not hesitate to contact us! As always, we thank you for your support and patience. We miss all of our students and look forward to seeing everyone in the future. Stay safe! Julie L. Lohr

Hello ME Families! We hope that you all are staying safe and trying to enjoy the time that you have been gifted during this challenging situation. We want you to continue to log onto Sapphire and access the connections and extensions that our teachers have been planning and pushing out. Our teachers will be monitoring what students are logging onto and what tasks they are completing online and will be sending and offering weekly incentives to those students who complete 70% or more of the weekly online opportunities. If you are having any technology struggles there are two contact numbers available on the website under the COVID-19 bar at the top. If your student has a packet due to not having access, we encourage you to keep the completed packet and send it with your student when we return to school. The students who have completed packets and return them will also receive some incentives upon the return to school. We are working on a plan for distribution of all materials and items that were left in the building prior to the closure and we will provide more details once they are finalized. Yearbooks will be given out and we will be requesting all library books to be returned at that time. Again, more details to come. Final report cards will be mailed home at the end of the school year. Finally, remember that this is a stressful time for not only the adults, but for our children as well. We are working on a plan for when we return in order to reteach those skills that were missed during this time. We recognize that you are parents first and foremost and encourage you to take it one day at a time. If you have any questions or we can help you in any way, please call the office and leave us a message or send us an email. Thank you for all that you are doing and stay safe! Mrs. Julie L. Lohr

Instruction for Sapphire Log On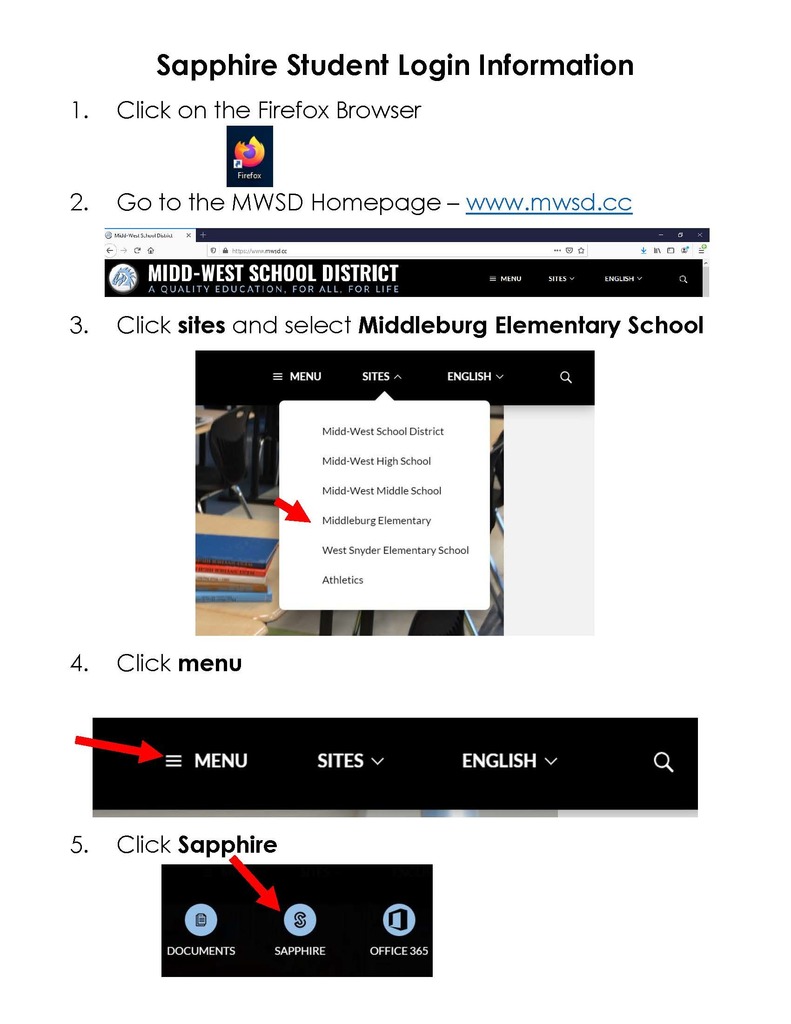 Good evening Middleburg Elementary Families, In an effort to support your child educationally during this extended school closure the Midd-West School District will begin to share mobile content for enrichment and review on March 30. Teachers will be posting resources and activities on Sapphire. Please note: Internet access is required to access Sapphire. Since our elementary students do not have their own devices we have arranged for elementary families to borrow district laptops. If you have a child in grades 6-12 as well as an elementary student, we are asking that the elementary child be allowed to use their older sibling's computer. For families with students only at the elementary school we will assign you a laptop to borrow for the duration of the school closing. We will be issuing 1 laptop per 3 children. If you have a laptop or desktop at home that you would prefer your child use, that is great, you are not required to use a district laptop. If you are not borrowing a laptop your child's Sapphire information will be sent to you via his/her classroom teacher on Thursday, March 26. Laptop distribution will occur tomorrow, March 24 and Wednesday March 25 from 11 am – 1 pm at the student drop-off loop at Middleburg Elementary School. Please follow the signs posted as we will follow a drive-thru format with all individuals remaining in their vehicles. We appreciate your flexibility and understanding. We want to continue to support you, your child, and your family during this difficult time. Laptop distribution will be tomorrow, March 24 and Wednesday March 25 from 11 am – 1 pm at Middleburg Elementary. This also coincides with our lunch distribution so plan to grab a bagged lunch while you are here. Thank you, Mrs. Julie L. Lohr

Due to the closing of all PA schools, Kindergarten registration for the Midd-West School District has been postponed. We apologize for this inconvenience. Rescheduled dates will be forthcoming. Thank you for your patience and support.

FREE MEALS AVAILABLE WHILE SCHOOLS ARE CLOSED Schools closed due to the Coronavirus are able to provide free meals to all students through the National School Lunch Program's Seamless Summer Option. These meals are available for all families and to any Midd-West Student age 18 and younger. The Midd-West School District invites families and care-givers to drive through and pick up meals beginning Wednesday, March 25, 2020. Pre-packed Lunch and Breakfast for the following day will be provided on a first come, first served basis. Students must be present in order for meals to be provided. Please stay in your car as you drive through, and meals will be passed through based on the number of students in your vehicle. If you walk to a site to pick up a meal, please do not congregate at the site. Pick up is available at the following locations, Monday-Friday at: Midd-West High School Main Office Loop 11:00 am--12:30 pm West Snyder Elementary School Office Loop 11:00 am--12:30 pm Breakfasts will include (but are not limited to) Cereal, Fruit/Juice, and Milk, along with napkin and straw. Lunches will include (but are not limited to) sandwiches, fresh vegetables, fruit, and milk, along with napkin and straw. We encourage families to continue to be proactive in reducing the risk of Coronavirus by not congregating at the pick-up site once meals have been distributed, continue to wash your hands often, sneeze or cough into a tissue, and stay home if you are sick. Contact the Midd-West School District Food Service Department at 570-837-0046 ext 1601 or
rosselli.john@mwsd.cc
if you have questions about this service or if you need to make arrangements for medically necessary meal accommodations.

Be a part of helping us organize our website! You can provide constructive comments or suggestions by emailing them to:
webmaster@mwsd.cc

New MWSD Webpage and App Midd-West School District now has a new look to the webpage! Also, go the Play Store and download our new App (search for MWSD)for the latest news and updates from the school district.