EDIT MAIN
District Office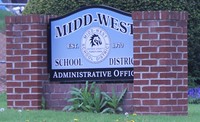 Midd-West School District
568 East Main Street
Middleburg, PA 17842

Phone: (570) 837-0046 Fax: (570) 837-3018
The Midd-West School District was established in 1970, resulting from the merger of the former Middleburg Area and West Snyder Area School Districts. It is comprised of all lands that lie within the boundaries of Adams, Beaver, Center, Franklin, Middlecreek, Perry, Spring, West Beaver and West Perry Townships, and Beavertown, McClure, and Middleburg boroughs. Assigned to Intermediate Unit 16 (Central Susquehanna Intermediate Unit), the Midd-West School District is classified as a district of the third class.
The Midd-West School District is comprised of two elementary schools, one middle school, and one high school. The elementary schools include Middleburg Elementary and West Snyder Elementary. Midd-West Middle School was completed in 2004. The newly formed Midd-West High School combined Middleburg High School and West Snyder High School. The merger of the two high schools took effect for the 2004-2005 school year.
The Midd-West School District is situated in central and western Snyder County. The district office, Midd-West High School, Midd-West Middle School, and Middleburg Elementary school are located in the county seat of Snyder county, Middleburg. The district is primarily a rural farming area surrounded by the rolling mountains of central Pennsylvania. The district is bordered by Selinsgrove Area School District, Juniata County School District, and Mifflinburg Area School District. Harrisburg, the state's capital is located approximately 45 miles directly south of the district. Some other educational points of interest near the Midd-West School District include Susquehanna University in Selinsgrove, Bucknell University in Lewisburg, and Bloomsburg University in Bloomsburg.