EDIT MAIN
Community Partnerships
---
On June 14th and June 15th of 2018, the leadership team in the Midd-West School District had the opportunity to go to Gettysburg Battlefield and Antietam Battlefield to learn about leadership of the Civil War Era and how those lessons would apply to their current practices. The tour guide at Gettysburg was provided as a free service by the Carlisle War College. Team members got to learn about the three days of battle and the many crucial decisions that had to be made during the battle. The entire day of June 14th was dedicated to this discussion.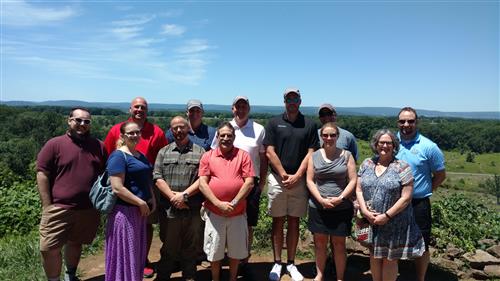 Additionally, on June 15th, some individuals on the leadership team used their day off to take part in a bicycle tour of Antietam National Battlefield which is about 1 hour to the south of Gettysburg. Their tour guide, provided by the Park Service discussed, stories of leadership at Antietam some of which involved the same individuals that participated at Gettysburg. Antietam which occurred on September 17, 1862 holds the distinction for being the bloodiest single day battle in the history of the United States of America with over 23,000 casualties.
Upon returning to the school district, the team had a lot of discussion from a leadership perspective as to how the things they saw and learned could be applied to the educational setting. Please feel free to check out their power point found below.