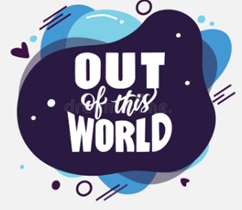 MWHS Spirit Week 2022 Announcement:
Greetings Earthlings! Student Council is "over the moon" to share the "Out of This World" themed Homecoming Spirit Week details with you! Let's "have a blast" while participating in these "stellar" spirit week dress-up days! They are as follows….
Monday, October 3rd - Astronaut Day – Take "One small step for man, one giant leap for Mustangkind" – Explore your closet and wear as much white as you can find… or get really creative and come to school dressed as an astronaut!
Tuesday, October 4th – Galaxy Movie Day - "May the force be with you" when you dress like any Star Wars, Guardians of the Galaxy character or any other space movie character.
Wednesday, October 5th – Cowboys vs. Aliens Day – Dress up like a Cowboy or Alien! Eighth Grade, Freshmen and Sophomores… channel your inner extra-terrestrial side. Juniors and Seniors… Mosey on down the halls displaying your best western fashion!
Thursday, October 6th – Clone Wars Day – Wear matching outfits and clone yourself with as many friends as you can!
Friday, October 7th – Cosmic Day – Wear your Homecoming Tailgate T-shirt and/or Neon colors!
For those who dress…. A $10 prize winner will be selected each day. If the student selected is not dressed for the day he/she will forfeit the prize and the prize will be $20 the next day, and so on. Also, if you are dressed for the day, visit the ticket sales table at lunch to sign in support of your favorite senior Homecoming couple.
So let's "reach for the stars" and show the Warrior Run Eagle and it's Defenders that "the sky is NOT the limit" for the Mustangs!
* Important reminder… ALL school dress codes and policies WILL continue to be enforced during spirit week!